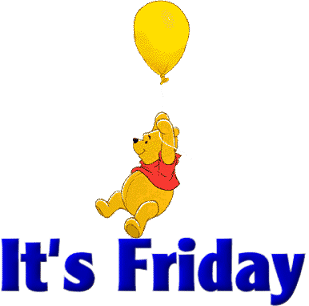 Thank God is Friday...........Alhamdulilah Jumaat datang lagi. Apa plan kekawan semua? Banyak perancangannya? Kadang-kadang 2 hari cuti cam tak cukup je kan. Am looking forward weekend normally to do cleaning. Do laundry, kebanyak chores wajib lah kan. Sebab kalau dah balik keje, ampun yea nak buat semua tu. Nak fokus kat anak & suami lah normally yang saya buat. Sebab masa terlalu limited bile di rumah during weekdays, so I will utilise the available time just for them. Apart from, all my other commitments such as to siapkan assignment, to study for my final exam
(tak baca apa lagi ni...rasa dah hilang darah semangkuk, last minute nak exam baru baca buku...memang cemerlang sangat lah kan)
and juga business yang perlu dijalankan.
This Saturday ada wedding di FRIM & Seremban which i kena attend coz dah dijemput dan kite tiada hal utk tidak pergi, maka wajib lah hadir. Ahad, hubby ajak pegi Bukit Cherakah sebab opis buat family day....
apa hal opis buat family day nk masuk quarter 4 ni yang... ikut je lah.


So nampak gayanye memang ujung minggu ni sibuk juga ni....takpe janji dapat spend quality time with family.
Apa perancangan kamu di hujung minggu? Pasti menarik kan......
p/s : tetiba nak makan red velvet cake lah....